Wave HDC & Shadowbox: Navigating Uncertainty
Wave HDC & Shadowbox team up to help labs navigate uncertainty, and learn how to ride the economic tide.
POSTED September 07, 2022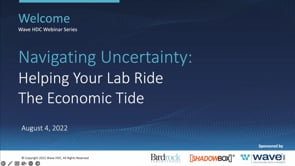 In the uncertain times we currently find ourselves in, labs are facing new and complex challenges when it comes to billing for services and securing reimbursement. Wave HDC and their technology partner, Shadowbox, have had great success collaborating to deliver a solution that is making a massive difference for their clients in healthcare revenue cycle management.
As part of the ongoing Wave HDC Webinar Series, on August 4th, 2022, Wave CRO Dean Paluch and Shadowbox CEO Greg Stein co-sponsored "Navigating Uncertainty: Helping Your Lab Ride The Economic Tide." This event was the perfect forum for attendees to be introduced to the new Wave/Shadowbox solution and learn about its benefits.
Dean and Greg were joined by their special guest (and mutual client!) Seth Maheu, CEO of Birdrock Laboratories. A Wave and Shadowbox customer since 2018, Birdrock went "all in" when presented with the opportunity to pilot this new solution.
We're Solving Common Pain Points

In addition to PAMA, the No Surprise Billing Act, and an impending recession, operational pain points abound. Seth cites three primary categories: customer acquisition costs, incomplete and inaccurate patient data, and poor lab sales operations. Shadowbox's integration and automation platform have been instrumental in helping Birdrock address these issues.
Wave and Shadowbox meet at a pivotal point in the lab workflow to address the patient data issue, the time of order. Shadowbox bounces the patient information (from the Birdrock EHR) off the Wave system. Wave's technology assesses the data to validate eligibility, demographics, and insurance coverage. If the data is invalid, Wave finds the correct information and fixes the data.
Shadowbox then presents the order content, and the data verification results from Wave in a browser-based format with the same look and feel as the Birdrock EHR (Greg demonstrates the process during the webinar!). And because this is happening at the time of order, it enables multiple downstream processes that might otherwise be impacted.
Game-Changing Results
Unsurprisingly, this new process has tremendously affected how Birdrock does business. Our joint solution offers a level of automation and efficiency that has alleviated the need for the staff to perform continuous research and manual corrections. Access to accurate and dynamic data has significantly contributed to their ability to capture more revenue while reducing denials and downstream costs. Birdrock is now positioned to anticipate and quickly respond to the challenges they typically face from payers.
Based on our recent case study, Seth discusses the metrics that Birdrock has been tracking and their remarkable results. With Wave's technology focusing on data accuracy and Shadowbox addressing the requisition component, the integration's overall results and ROI have been a massive win for Birdrock.
Watch The Replay And See Why We're So Excited!
Seth shares so many valuable insights into how life has changed at Birdrock. You'll also learn more about Wave's data curation model, as well as the Shadowbox platform, and why working together is such a benefit for our clients.
Let us help your lab flourish (in any economy!) by becoming more efficient, agile, and profitable. Contact us today for more information!
Save time and increase revenue today!
Schedule a call with our team and start improving your RCM in as little as 30 days.
POSTED September 25, 2023
By David Figueredo, Chief Operating Officer
The New Language of RCM: Denial Prevention and Perimeter Defense
Discover how Wave HDC pioneers revenue cycle management with real-time verification, COB correction, and seamless issue resolution at registration. Reduce denials by 35% and eliminate AR delays and costly contingency fees. We redefine Denial Prevention and Perimeter Defense, identifying and fixing issues at the patient's entry point. It's time to modernize your RCM strategy with our automated solutions.