Wave HDC's Webinar Series: "Hiding In Plain Sight"
Wave HDC's CRO Dean Paluch wraps up Wave's webinar series with "Hiding In Plain Sight: Five Reasons Why Paper Forms Cost More Than You Realize." Focusing on how Wave HDC and Shadowbox have come together to offer paper-based labs a unique platform that quickly reduces costs while increasing revenue and optimizing RCM.
POSTED January 02, 2023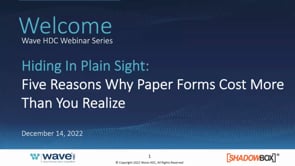 Why Do Labs Continue To Use Paper?

Most people don't realize that 50% of the lab procedures performed in the US today are completed using paper. The associated costs, cleverly hidden behind routine operations, make this a very expensive business model. The combined costs of paper forms, shipping, printing, storage, and staffing are enormous. Complicating things further, paper can be damaged in transit, lost, or unreadable. And paper orders can't alert lab staff when they're en route for processing.
The obvious solution to the ongoing costs and operational impacts associated with paper is to convert to an automated solution. Sadly, most small to mid-sized labs are under the impression that implementing automation is too expensive. But the collaborative solution Shadowbox and Wave offers is completely changing that mindset!
Shadowbox + Wave: Changing the Way You Do Business

By combining Shadowbox's instant healthcare automation strategy with Wave's real-time healthcare data curation, labs can eliminate the continual pain points driving up operational costs:
Managing Supplies & Logistics
Correcting Data Entry Errors
Overcoming Staffing Challenges
More Payer Denials
Increased Bad Debt
Imagine an operation where you're not constantly re-ordering or re-printing forms. And your staff doesn't spend countless hours performing insurance discovery and claim follow-up tasks. Where processes historically handled "downstream" are performed at the time of order. It's all possible (and more!) with the Shadowbox + Wave solution and at a price point cheaper than paper.
Catch The Replay

If you couldn't join the live webinar, we invite you to watch the replay. This is an important topic, especially for labs looking to streamline their operations and improve their numbers in 2023. Greg and Dean cover a lot of territory in this session, with Greg sharing some surprising stats based on years of working with lab clients.
It's time to retire that fax machine and create an environment that promotes efficiency, supports the sales and revenue cycles, and elevates the patient experience, all while generating a significant increase in your ROI. Shadowbox + Wave; making automation achievable and affordable!
To learn more about our companies and our shared passion for helping labs and other providers, visit www.shadowbox.com and www.wavehdc.com.
Save time and increase revenue today!
Schedule a call with our team and start improving your RCM in as little as 30 days.
POSTED September 25, 2023
By David Figueredo, Chief Operating Officer
The New Language of RCM: Denial Prevention and Perimeter Defense
Discover how Wave HDC pioneers revenue cycle management with real-time verification, COB correction, and seamless issue resolution at registration. Reduce denials by 35% and eliminate AR delays and costly contingency fees. We redefine Denial Prevention and Perimeter Defense, identifying and fixing issues at the patient's entry point. It's time to modernize your RCM strategy with our automated solutions.